Youghiogheny Glass proudly introduces Y-96 Fusible Glass.
Our new line of 96 COE compatible glass is a sure crowd pleaser with a palette of robust new opal and cathedral colors. The opal colors are now available exclusively from Ed Hoy's International. The entire line will be released to all Distributors soon.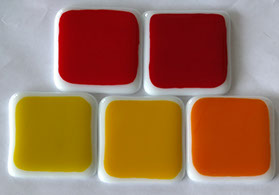 ** All of our testing has been done on currently available clear COE 96 glasses and our own white opal. We have used standard COE 96 fusing schedules that are currently available online**
Our Y96 Glass is tested using both a dilatometer to measure actual COE and a polariscope to ensure our product meets the set standard.
YOUGHIOGHENY OPALESCENT GLASS COMPANY, INC.
300 SOUTH FIRST ST CONNELLSVILLE, PA 15425
PHONE: 724-628-3000 FAX: 724-628-5060 EMAIL: YOUGH@CVZOOM.NET